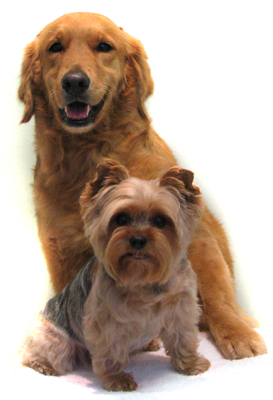 It all started 9 years ago with a little Yorkshire Terrier named Maggie May. I had always groomed her myself, along with many of my friend's dogs. It was more of a hobby really, than anything. With no formal training I looked at Yorkie photos etc to copy the styles.

For Maggie's 1st Birthday I decided to get her a "Professional Style" , thinking she'd get a true "Yorkie cut". I called a local groomer and waited the 3 weeks for our appointment. The morning of the appointment I picked up coffee & cookies for the groomer (I had asked prior what she liked), along with a Tim Bit for Maggie and off we went!

So exciting..........

Upon arrival, we were greeted by a grumpy, agitated and abrupt individual. So much so I actually said "look I'm going to take the coffee, cookies and Maggie and be on my way"! That seemed to get her attention and she said she was sorry; she'd had a bad start to the day. I had asked would she reward Maggie with pieces of her Tim Bit, as that was what she was used to when I groomed her and I had said I'd call later to see how Maggie was doing. Apparently that was out of the question and I could just pick her up at end of day.

Hindsight is always 20/20 - I should have listened to my gut, taken Maggie and got the heck out of Dodge!! After spending the day worrying about Maggie, I went to pick her up. I could have cried when I saw my little 5 lb Maggie trembling like a leaf in the back of a kennel. The kennel wasn't the issue, she was crate trained. When I voiced my concern I was told I coddle my dog to much!! Can you imagine........

Her face was so uneven I had to fix it when I got home, and to think I thought she'd get a better style than I had given her!! The icing on the cake came the next time I gave Maggie a bath - something she had always enjoyed. I was holding her, running her bath water and at the sound of the running water, she urinated all over me!

Needless to say that was the one and only time someone else has cut her hair. I still feel guilty for leaving her there.

Fast forward 5 years to July 2008 ...

With a lot of help from family and friends, here we are - Doggone Wonderful Pet Spa & Photo Studio.

I have completed a very extensive training course, of which I passed with the highest of marks and am ready to pamper your loved one.

Maggie has a big sister Tessa; we adopted her from the Golden Rescue in Feb. 2010. The rescue brought her in for grooming and while Cathy and I were bathing her, I kissed her on the head and said "am I the first one to give you kisses?" ....the rest is history.

We reward with lots of praise, hugs, kisses and treats. Allergies? Please feel free to bring their favorite treats, we are more than happy to give it to them.

When we say "we won't treat your dog any differently than our own", we really mean it and now you know why. Rather than sit and worry about your 4 legged family member, we encourage owners to call and check on them throughout the day.

Don't believe us? Just ask any dog that comes here!

We look forward to meeting you.